Governorship candidate of the People's Democratic Party in Ogun State,  𝙊𝙡𝙖𝙙𝙞𝙥𝙪𝙥𝙤 𝘼𝙙𝙚𝙗𝙪𝙩𝙪 𝙝𝙖𝙨 𝙗𝙚𝙚𝙣 𝙤𝙧𝙙𝙖𝙞𝙣𝙚𝙙 𝙖𝙨 𝙖𝙣 𝙖𝙬𝙖𝙧𝙙𝙚𝙚 𝙤𝙛 𝙆𝙉𝙄𝙂𝙃𝙏 𝙊𝙁 𝙅𝙊𝙃𝙉 𝙒𝙀𝙎𝙇𝙀𝙔 (𝙆𝙅𝙒) at Badagry, Lagos.
KJW award is in honour of the first Wesleyan Methodist Missionary Society preacher in Nigeria, Rev. Thomas Birch Freeman, who dedicated his lifetime to the gospel thy Lord Jesus Christ and Methodist church.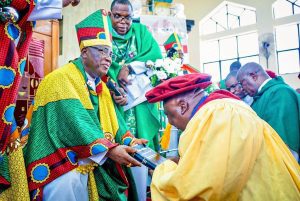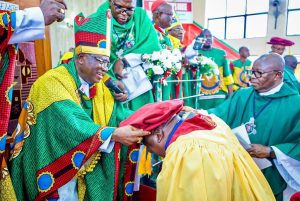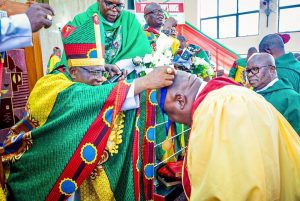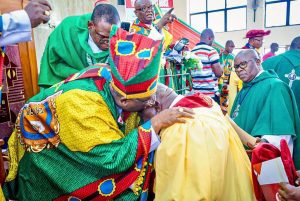 Rev. Thomas Freeman set foot on the coast of Badagry on the 24th September, 1842 and was later joined in December, 1842 by Rev. Henry Townsend. Both renowned clergymen performed the first ecumenical service of the church in Nigeria on 24th December, 1842 and the church spread Christianity across Nigeria via the Christian Missionary Society with the establishment of the first church at Ake, Abeokuta.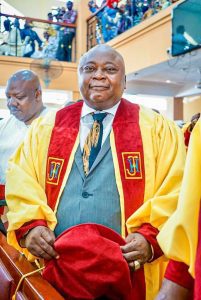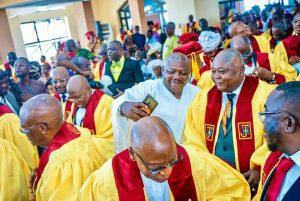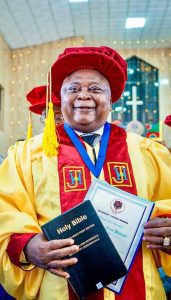 With the award, Hon. Oladipupo Adebutu has added SIR to his title and a Knight of the Church. The ceremony was tagged 180th/60th Anniversary of the Methodist Church of Nigeria Special Award, held at Birch Freeman Methodist Church, Badagry, Lagos State.
Lado, as fondly called, also led his entourage to pay homage to 𝙃𝙞𝙨 𝙈𝙖𝙟𝙚𝙨𝙩𝙮, 𝘿𝙚 𝙒𝙝𝙚𝙣𝙤 𝘼𝙝𝙤𝙡𝙪 𝙏𝙤𝙮𝙞 1, 𝙊𝙗𝙖 𝘼𝙠𝙧𝙖𝙣 𝙤𝙛 𝘽𝙖𝙙𝙖𝙜𝙧𝙮 at his palace in Badagry, Lagos after the church ceremony.