The funeral for Queen Elizabeth II, the longest-reigning monarch in British history, has commenced at Westminster Abbey in London.
King Charles and other senior British royals led Queen Elizabeth's coffin into Westminster Abbey on Monday, joining international leaders and monarchs in saying farewell to a cherished figure who unified the nation over her 70-year reign.
[wonderplugin_video iframe="https://youtu.be/7B-Vm4Qs1wI" lightbox=0 lightboxsize=1 lightboxwidth=960 lightboxheight=540 autoopen=0 autoopendelay=0 autoclose=0 lightboxtitle="" lightboxgroup="" lightboxshownavigation=0 showimage="" lightboxoptions="" videowidth=600 videoheight=400 keepaspectratio=1 autoplay=0 loop=0 videocss="position:relative;display:block;background-color:#000;overflow:hidden;max-width:100%;margin:0 auto;" playbutton="https://www.tvcnews.tv/wp-content/plugins/wonderplugin-video-embed/engine/playvideo-64-64-0.png"]
Pall bearers carried her flag-draped body down the aisle in breathtaking images in the country's first official funeral since Winston Churchill was granted the honor in 1965.
The monarch's official lying-in-state period ended at 11 a.m., after four days of hundreds of thousands filing past the Queen's casket at London's famous Westminster Hall.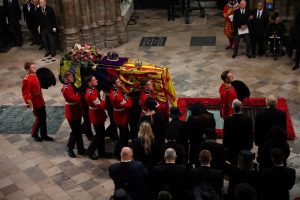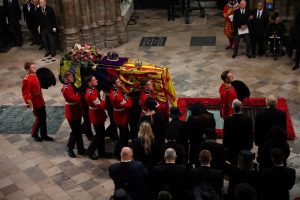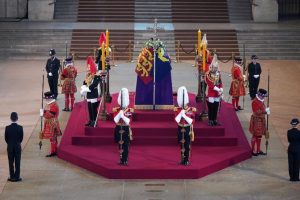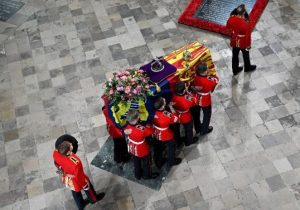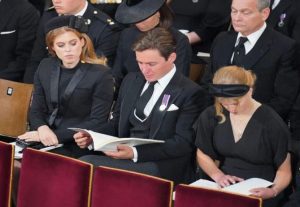 In the congregation of around 2,000 guests made up of world leaders, royalty from the UK and overseas and community leaders, India was represented by President Droupadi Murmu.
The funeral service is being led by the Dean of Westminster and will include many personal touches of the late monarch, who was also the head of the Church of England. (PTI)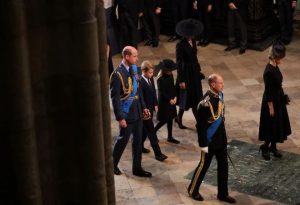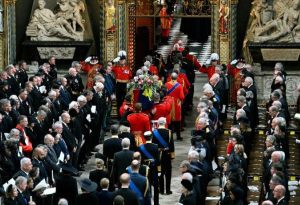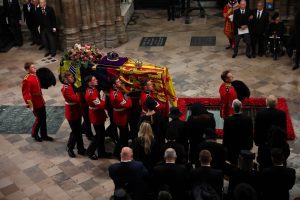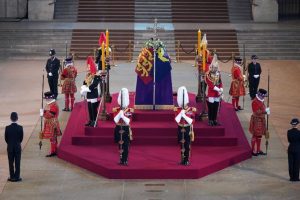 After the state funeral at Westminster Abbey, the coffin will be driven to Windsor Castle where she will be laid to rest alongside her husband Prince Philip in a modest chapel on the grounds of the Castle in a private ceremony.