Typhoon Nanmadol made landfall in southwestern Japan on Sunday night, prompting authorities to urge millions of people to take shelter from the storm's strong winds and rain.
According to the Japan Meteorological Agency (JMA), the storm's eyewall approached Kagoshima city at around 7 p.m. local time (10:00 GMT), marking the storm's official landfall.
In less than 24 hours, areas of the southwestern Kyushu region had received up to 500 mm of rain from Nanmadol, which had wind gusts as high as 234 kilometers per hour.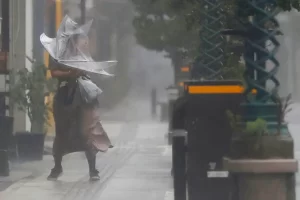 At least 20,000 people were sleeping in shelters in Kyushu's Kagoshima and Miyazaki prefectures, where the JMA issued a rare "special warning" – an alert issued only when conditions seen once in several decades are anticipated.
National broadcaster NHK, which collates information from local authorities, said more than seven million people had been told to move to shelters or take refuge in sturdy buildings to ride out the storm.
'The evacuation advisories are not mandatory, and authorities have had difficulty convincing people to relocate to shelters prior to severe storms.
'Throughout the weekend, they tried to emphasise their fears about the weather system.
The JMA has warned the region could face "unprecedented" danger from high winds, storm surges and torrential rain and called the storm "very dangerous."
By Sunday evening, utility companies said nearly 200,000 homes across the region were without power.
Trains, flights, and ferry trips were all canceled until the storm passed, and some convenience stores—which are typically open 24/7 and are thought to be a lifeline in emergencies—were closing their doors.
In Kyushu's Minamata city, fishing boats tied up for safety bobbed on the waves, as spray from the sea and bands of rain sluiced the boardwalk.
The storm, which has weakened slightly as it approached land, is expected to turn northeast and sweep up across Japan's main island through early Wednesday.
Japan is currently in typhoon season and faces around 20 such storms a year, routinely seeing heavy rains that cause landslides or flash floods.
Typhoon Hagibis slammed into Japan during the Rugby World Cup in 2019, killing more than 100 people.
Typhoon Jebi had shut down Osaka's Kansai Airport a year ago, killing 14 people.
In 2018, more than 200 people were killed by floods and landslides in western Japan during the country's annual rainy season.
According to scientists, climate change is increasing the severity of storms and making severe weather events like heat waves, droughts, and flash floods more often and powerful.
Forecasters said as Nanmadol continues to move over the southern Japan mainland, its wind intensity will continue to decrease but the rain will still play a significant threat through the early week.