The Secretary General of the D-8 Countries Organisation for Economic Cooperation, Ambassador Isiaka Abdulqadir Imam, has visited the Nigerian Bulk Electricity Trading Plc, NBET, in Abuja, in order to establish new alliances in the electricity sector.
D-8, also known as Developing-8, is an organisation for development cooperation comprising of the following countries: Bangladesh, Egypt, Indonesia, Iran, Malaysia, Nigeria, Pakistan, and Turkey.
Some Member States of the D-8 have successfully implemented reforms in their respective electricity and energy sectors.
Turkey, Egypt and Iran have a combined total installed electricity capacity of over 240,000 MWs which Nigeria can leverage on the learning experience from these countries to develop its electricity market.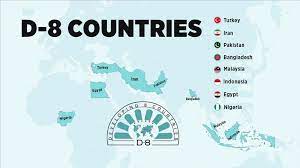 In his welcome speech to the Ambassador, the MD/CEO of NBET, Dr.Nnaemeka Ewelukwa, acknowledged the mutual relationship and cooperation between both organizations, as well as the latter's support in facilitating collaboration among the D-8 member countries, particularly in the areas of energy development and economic growth.
Dr. Ewelukwa during the meeting, reiterated the Government of Nigeria commitment and support in improving electricity generation and distribution in the country.
He stated that the current administration of President Muhammadu Buhari has demonstrated strong political will and commitment in ensuring steady progress and development of the power sector.
He stated that with a sense of urgency, NBET is poised to collaborate with other D-8 countries in areas of technical and knowledge exchange towards enabling sustainable development in the NESI.
Ambassador Isiaka Imam also assured the MD/CEO and Management Team of NBET of the commitment of the D-8 Organization Secretariat to provide support and all necessary assistance towards facilitating collaboration amongst the D-8 countries for sustainable development and growth.
He commended the MD/CEO NBET for his commitment and resilience in managing the financial transactions and contract administration in the NESI.
Both parties are optimistic about the enormous opportunities in Nigeria's power sector and pledge to work together to ensure the sector's long-term development.