The Nigerian National Petroleum Company Limited (NNPCL) has stated that Nigeria loses 470,000bpd ($700 million) monthly as a result of oil theft, in addition to security challenges.
This, according to NNPCL has impeded oil production in some terminals thereby affecting performance.
Bala Wunti, Group General Manager, National Petroleum Investment Management Services (NAPIMS), told journalists during a tour of the NNPCL's facilities that pipelines, particularly those near the Bonny terminal, cannot be operated due to criminal activity.
The GGM claimed that daily barrel thefts are quite high, adding that roughly 270 barrels that were scheduled to be loaded in Bonny will now not be loaded as a result of theft.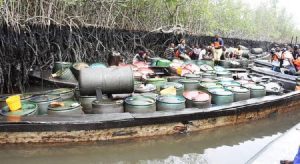 He said, "The Shell Petroleum Company (SPDC) trunk line, TNP transnational pipeline cannot be operated and this has been like this since March the 3rd that we put in this.
The GGM stated Forcados is not completely secure due to some challenges, but assured that they were addressing it, and in two weeks it may be fixed.
"But we also have Brass about 100,000 barrels, which is operated by Agip and is also facing insecurity and vandalism."
He bemoaned that the activities of pipe vandals and organised criminal gangs have limited the amount of oil delivered into these federal oil terminals in the nation and have had a negative impact on revenue for all stakeholders. Illegal siphoning of crude oil from oil facilities by criminal individuals and groups.
Wunti said the impact of vandal activities caused low crude oil production, interrupted gas supply, countrywide interruption of distribution of petroleum products, refineries' downtimes, increasing instability in the oil and gas market, "but I will tell you the major thing that affects us.
"Nigeria will suffer for it; the revenues are impacted, so we can only appeal to them to rein in themselves, the oil theft situation is regrettable.
It's not going on across the whole of the Niger Delta, there are trunk lines that are more impacted on, I think the Bonny trunk line ranks highest.
"Our major challenge as a country is our capability to respond and that is as a result of several factors, the terrain as well as some incapacity that we have," he added.