Troops of Operation Lafiya Dole have recorded significant successes in the last three months in their efforts to end the insurgency in the North East.
This was disclosed by Major General Christopher Musa, Theater Commander, North East Operation HADIN KAI, in a press conference after promising to keep the public properly informed of the operations' progress at the headquarters of Theatre Command in Maiduguri, the capital of Borno State.
He stated that the troops, in collaboration with Cameroonian forces, began advance clearing and killed twenty boko haram terrorists, with equipment captured including one gun truck equipped with an anti-aircraft gun, two AK 47 rifles, and a 60 mm mortar.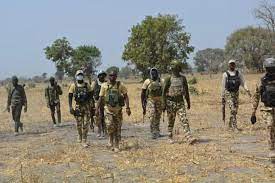 Three Cameroonian soldiers sustained injuries while trying to deactivate Improvised Explosive Devices buried along the way.
He further stated that the joint force encountered about 10 Improvised Explosive Divices during the operation.
KUMSHE, a town situated in Bama local government of Borno, was eventually captured with little resistance from the boko haram terrorists on 24 Feb 16.
According to the Theatre Commander, "on Mar 16, troops of 22 Brigade in conjunction with elements of Armed Forces Special Forces Battalion and Army Headquarters Strike Group advanced to clear, capture and hold Kala-Balge LGA and the general areas of the Local Government.
"In the process, pockets of insurgents in Wumbi, Tunish and Tilem villages were cleared. The BHT training camp at Tilem was destroyed. The terrorists suffered heavy causalities including the destruction of 2 of their Toyota pick-up vehicles and 4 Canter trucks. Troops recovered 4 AK 47 rifles and a Mortar tube. Our gallant troops killed 15 insurgents, recovered other weapons and equipment and freed 567 civilians held hostage. Troops are currently conducting clearing operations in the general area to destroy remnants of the terrorists still operating in KALA- BALGE".
Also the troops of 3 and 7 Division commenced advance to capture ALAGARNO, another town with a preparatory air bombardment by Nigerian Air Force. The advance was halted severally due to planted IEDs along the routes leading to ALAGARNO.
General Musa said during the operations, troops cleared YAJIWA, JOBA, MOSA, ARIWUZUMARI, MISSENE SANSAN and KAGALMARI villages.
"Our gallant troops finally entered ALAGARNO on 28 Mar 16 during which several BHTs were killed along the route. This operation demystified the BHT spiritual power base in ALAGARNO. Throughout the operation, the NAF monitored the operation, consistently resupplied the advancing troops as well as assisted in evacuating soldiers that were wounded in action. You will recall that motorcycles were inducted into the operation and launched by the Chief of Army Staff Lt Gen TY Buratai on 27 Feb 16 at DAMBOA. The Motor Cycle Battalion has been very useful in areas of road parquetting and for patrols among other tasks"
The Theatre Commander further disclosed that the Theatre has also been conducting clearing operations on a daily basis to destroy remnants of the terrorists still harbouring in some Local Government Areas as well as rescue civilians held in captivity.
Some of the clearing operations that troops of Operation LAFIYA DOLE have conducted according to him includes:
A. Troops of 81 Task Force Battalion cleared and destroyed Boko haram Terrorists camps at KOMALA, DOLE, KUMASI and MAUDORI villages around the fringes of ALARGANO. Some insurgents were killed while 2 were arrested. In addition, 2 BHT Toyota pick-up vehicles, 40 motorcycles and fuel dumps were destroyed.
B. Troops of 25 Brigade cleared boko haram terrorists amps at Galmasku Muli, Chiralia, Maisani Talala, Ajigin Shetimalau 1 and 2 and Dalomi. During the operation 250 hostages were rescued, 5 BHT trucks, 80 motorcycles and many bicycles were destroyed. Additionally, several IED-making materials were recovered and destroyed.
C. Troops of 7 Division comprising 112 Battalion, AHQ SG and Air Component conducted joint fighting patrol with civilian JTF to Anadawa, Talbari, Choga, Dagumba, and Hagibiri Manawaji in Mafa-konduga axis. On sighting own troops, the in insurgents fled. Consequently, troops destroyed the BHT camps at Dagumba and also cleared the Mafa-Konduga road.
D. Troops of 157 TF Bn in 8 TF Div Area of Responsibility conducted ambush along BHT crossing points between Mile 90 and Yoyo. In the process 3 motorcycles and several gallons of PMS were recovered. Additionally, troops of Brigade Quick Response (QRG) Force of Headquarters 7 Brigade MNJTF sprung a deliberate ambush 10km east of Kekenoa on some BHT riding motorcycles. Two insurgents were killed while 2 AK 47 rifles, 2 magazines, 3 motorcycles, one hand grenade, and some food items were recovered.
E. Troops of 25 TF Bde conducted offensive operations to clear BHTs from their base at TALALA and AJIGIN. Troops cleared the insurgent camps at GALMASKU MULI, CHIRALIA, DOKSA, GWOLGORE, MAISANI, TALALA, AJIGIN, SHETIMALU 1&2 and DALOMI. Our gallant troops destroyed 15 pick -up vehicles, 5 trucks and 80 motor cycles. Several IED making materials were also recovered and destroyed.
F. Troops of 27 TF Bde conducted fighting patrol to suspected BHTs hideout close to GAMSARI village in YUSUFANARI LGA in Yobe State. Troops successfully cleared the terrorists from their hideout. Among the items recovered was one Armoured Personnel Carrier captured from our troops in 2015. Other items are one Isreali assault rifle, extra magazine, 70 rounds of 5.56mm (NATO) and one Motor Cycle.
The Theatre Command further reassured the public of its untiring resolve to safeguard lives and properties of Nigerians in the North East.
He also address the issue of an online video clip purportedly released by the Boko haram terrorists leader or his replica showing remorse and making a dying testimony.
He stated unequivocally that the video does not have any influence on Operation LAFIYA DOLE as the gallant troops are determined to completely wipe out all terrorists in the country.
He commended the invaluable support and contributions of all stake holders in this fight against insurgency in the North East  and assured the public that the Nigerian Military was more than ever determined to secure the country.