Nigeria's National Information Technology Development Agency (NITDA) will partner with Amazon on digital services for Nigerian operators.
The Director General of NITDA, Kashifu Inuwa made this known to Journalists after he received the Amazon representative in Africa and the Middle East, Narrimane Benakcha, in Abuja, the nation's capital.
Amazon is an American multinational technology company, which focuses on e-commerce, cloud computing, digital streaming and artificial intelligence.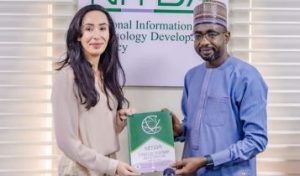 Inuwa expressed concern about the exorbitant costs incurred by some fintech operators in obtaining hosting services from Amazon Web Services (AWS), Microsoft, and other related companies.
The visit gave the Director General the chance to outline the agency's mission and area of responsibility for carrying out the National Digital Economy Policy and Strategy for a digital Nigeria.
He urged Amazon and other multinational organisations to have a common interest in Nigeria, adding that the market is appropriate and foretells that Nigeria will be the next frontier in digital services.
Inuwa postulated that digital services would thrive in Nigeria because of the nation's youthful population.
"Africa has the fastest-growing population and one of the youngest populations in the world, with the fastest-growing broadband penetration and other factors that can accelerate digital business," he said.
According to Inuwa, the public sector policy, which is the National Digital Economy Policy and Strategy (NDEPS), has an ambitious target of digitising all government services with 98 per cent of broadband coverage by 2030.
The NITDA boss confirmed that the government, through NITDA, is eager to learn from Amazon's experience in other jurisdictions, particularly in policy and regulations.