The day of Queen Elizabeth II's imminent funeral will be observed as a bank holiday in England, Wales, Scotland, and Northern Ireland, according to an order from the new Monarch, King Charles III.
Lord President of the Council Penny Mordaunt said during the meeting: "Drafts of two proclamations. One – appointing the day of Her late Majesty's state funeral as a bank holiday in England, Wales and Northern Ireland.
"Two – appointing the day of Her late Majesty's state funeral as a bank holiday in Scotland.
[wonderplugin_video iframe="https://youtu.be/KmUAiLK1mLM" lightbox=0 lightboxsize=1 lightboxwidth=960 lightboxheight=540 autoopen=0 autoopendelay=0 autoclose=0 lightboxtitle="" lightboxgroup="" lightboxshownavigation=0 showimage="" lightboxoptions="" videowidth=600 videoheight=400 keepaspectratio=1 autoplay=0 loop=0 videocss="position:relative;display:block;background-color:#000;overflow:hidden;max-width:100%;margin:0 auto;" playbutton="https://www.tvcnews.tv/wp-content/plugins/wonderplugin-video-embed/engine/playvideo-64-64-0.png"]
"And of two orders in council, directing the Lord Chancellor to affix the great seal to the proclamations."
King Charles answered: "Approved."
Her Majesty passed away on Thursday September 8 at Balmoral Castle at the age of 96, and her burial is scheduled for later this month; with a specific date yet to be confirmed by the Royal Family.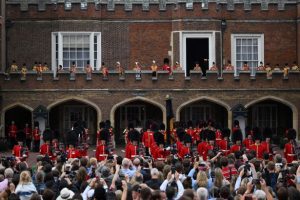 The Queen's state funeral is expected to take place at Westminster Abbey in central London.
The King paid tribute to the Queen at the Accession Council saying, "Her reign was unequalled in duration, dedication, and devotion." Even as we mourn, we are grateful for this most faithful life."
Broadcast cameras were allowed into the historic event giving the world a first glimpse of an ancient ceremony dating back centuries – and one of the first changes to convention instigated by the new King.