Imo and Ekiti states have been rated as having the lowest number of out -of -School children in Nigeria, estimated at 1per cent and 2 per cent respectively.
UNICEF's chief of data, Claes Johanson revealed this during a media dialogue while providing an overview of the multiple indicators cluster survey 6 results.
The media dialogue was organised by UNICEF in collaboration with the Child rights information Bureau.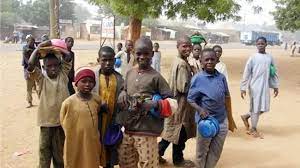 Nigeria is one of the countries of the world with the highest number of out of school children.
Several efforts have been made by government and International donors to change the narrative for the country but a lot more still needs to be done.
The Recent Multiple indicators cluster survey 6 report of UNICEF reveals that Imo and Ekiti states now have the lowest number of out of school children
This is against the 2018 report where statistics indicated that Abia, Kwara, Enugu, Bayelsa, FCT and Ekiti topped other states with the latest number of States with the lowest number of out-of-school-children in the country.
These positive indications were not visible in Kebbi, Zamfara and Bauch States which recorded 65 Per cent, 61percent and 61 percent respectively despite series of interventions by development partners over the years.
The chief of data also revealed that 27 per cent of children aged seven to 14 years had foundational reading skills while only 25 per cent were with foundational numeracy skills.
Increasing population growth was also identified as a factor threatening a positive impact on the out-of-school trend in the country.