Charles III has been officially proclaimed as king at a ceremony of the Accession Council held at St. James' Palace, London on Saturday.
The Accession Council, a body made up of senior politicians, judges and officials, proclaimed him as the monarch.
Clerk of the Privy Council Richard Tilbrook proclaimed Charles "King, head of the Commonwealth, defender of the faith", before declaring "God Save the King".
[wonderplugin_video iframe="https://youtu.be/r2mTUgYD9Ac" lightbox=0 lightboxsize=1 lightboxwidth=960 lightboxheight=540 autoopen=0 autoopendelay=0 autoclose=0 lightboxtitle="" lightboxgroup="" lightboxshownavigation=0 showimage="" lightboxoptions="" videowidth=600 videoheight=400 keepaspectratio=1 autoplay=0 loop=0 videocss="position:relative;display:block;background-color:#000;overflow:hidden;max-width:100%;margin:0 auto;" playbutton="https://www.tvcnews.tv/wp-content/plugins/wonderplugin-video-embed/engine/playvideo-64-64-0.png"]
The packed room, including the Queen Consort, the Prince of Wales and Prime Minister Liz Truss, repeated back the phrase.
There were 200 Privy Council members present for the occasion including John Major, Theresa May, David Cameron, Gordon Brown, and former prime ministers Tony Blair and Boris Johnson.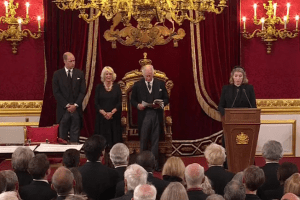 The decision to allow television cameras into the Accession Council for the first time, allowing the public to observe proceedings, was made by King Charles III.
A wave of further proclamations will take place across the UK until Sunday, when flags will return to half-mast.
Following the proclamation, King Charles III called his first Privy Council meeting and made a personal commitment to carry on his late mother's legacy and "take the obligations and responsibilities of sovereignty."
Queen Elizabeth II, Britain's longest-serving monarch, died at the age of 96 on Thursday.
It is anticipated that the Queen will lay in state in Westminster Hall in London for the people to pay their respects, however official details will be announced by Buckingham Palace.
In the coming days, the Queen's coffin will depart her Balmoral estate for the Palace of Holyrood-house in Edinburgh the official residence of the British monarch in Scotland. From there, it will be taken in procession to St. Giles' Cathedral in the city, where the Queen will lie at rest, allowing the public to view her coffin.
The coffin will then move to London, ready for lying in state for around four days before her funeral.