Nigeria and the Republic of Cuba will work together on the manufacture of vaccines, Minister of Science, Technology, and Innovation, Dr. Adeleke Mamora stated on Thursday.
The Minister made the remarks during a courtesy visit to Abuja, Nigeria's capital, by the Ambassador of the Republic of Cuba, Mrs Clara Pulido.
Dr. Mamora noted that the partnership will make it possible for Cuban vaccine manufacturers to establish companies in Nigeria and develop productive cross-border contacts.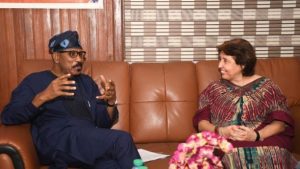 The Minister who affirmed that Cuba has done so much in Primary Health Sector also stated that Nigeria was replicating same for the growth and development of the nation.
He further explained that Nigeria was making serious efforts in producing vaccine locally in order to prevent childhood diseases such as polio, tetanus and tuberculosis.
"knowledge and experience of those who are ahead of us in Vaccine technology is something we must learn, through technology transfer" Dr Mamora added.
The ambassador of Cuba, Mrs. Clara Puildo, had earlier stated that she had come to congratulate the minister on his new position and to ask for the ministry's assistance in producing vaccines for the benefit of society.
Assurance Okwuchi