Governor of Borno State, Babagana Umara Zulum, has ordered the immediate renovation of vacant and dilapidated bungalows built for medical professionals, including the chief medical director (CMD), at the General Hospital in Bama.
He stated this when he visited the hospital for on-the-spot monitoring of public healthcare services.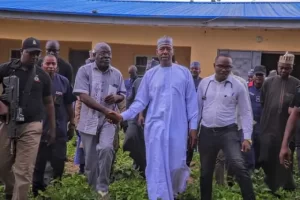 The Governor re-visited the hospital and directed relevant officials of the State Government to ensure rehabilitation began today Wednesday, expressing his readiness to immediately approve the release of funds after the official assessment of all the buildings and determine the costs.
He maintained that he wanted the rehabilitation to start during his stay in Bama for some days, for the ongoing humanitarian and developmental activities.
Zulum also mandated that barbwires and lighting be installed around the rooms and the hospital's general area, as well as that the perimeter fence be elevated higher.
Governor Zulum discovered only two medical doctors and ten nurses and midwives working at Bama's General Hospital during his visit. The governor immediately directed that 30 healthcare workers, including pharmacists and lab technicians, be hired.
Zulum also approved release of additional drugs and medical reagents used for diagnostic purposes, to the General hospital.