Police in Zamfara is seeking the collaboration and support of traditional institutions in the state to address the Over a decade security challenges that has affected all aspects of live.
The police described Traditional Rulers as major stakeholders in combating activities of criminal elements
The Zamfara Commissioner of Police Kolo Yusuf stated this while on familiarization visit to the emir of Anka Attahiru Ahmad who doubles as the Chairman, Zamfara State Council of Chiefs
Kolo Yusuf assumed Office as the 32nd Commissioner of Police, Zamfara Command two weeks ago.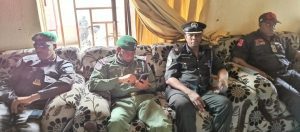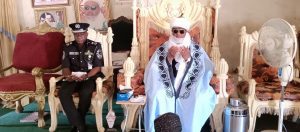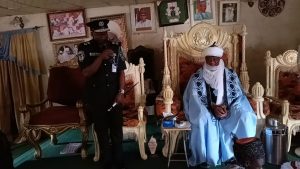 The police Commissioner has embarked on familiarization visit to Traditional rulers with a view to getting first hand Information of the security challenges in their area to enable both parties be on same page to tackle the situation
He noted that the visit is part of efforts to strengthen community policing strategy in the war against Banditry, Kidnapping and other Criminal activities
Speaking at the Emirs palace in Anka, CP Kolo Yusuf reassures sustained commitment to end the lingering security challenges
The 54 yearly old Senior Police officer thanked the emir and his council for their unalloyed support and collaboration with the Police and sister agencies.
He further assures the Emir of the Command's readiness and Commitment to ending the lingering security challenges
On his part, the Emir of Anka commend the Inspector General of Police Usman Alkali Baba for deploying CP Kolo Yusuf to the state, whose track record according to the emir speaks for his Sincerity, Honesty and dedication to work especially in Tackling the activities of terrorists, armed Bandits,Kidnappers and other harden Criminals
The Emir pledges to continue to support and cooperation with the police and other the security agencies to achieve the mandate of safeguarding the lives and property of the all citizens
Those on the entourage of the Commissioner of Police Includes the Deputy Commissioner of Police, Operations, Dauda Mamman, Commanding Officers 42/78 PMF Squadrons, Commander Counter Terrorism Unit CTU Base 18 Gusau among others.
Zamfara is one of the Northern states that is battling with Insecurity for many years, which has led to the death of many, others abducted, killed, properties destroyed and saveral others displaced while thousands are still in Captivity
It is expected that the deployment of CP Kolo Yusuf and support from residents will fastrack end to the menance of Insecurity that will lead to residents in all parts of the state sleep with their two eyes closed.