A physiotherapy facility at the Jaji Military cantonment medical centre in Kaduna State has been officially opened by the Chief of Army Staff (COAS), Lt. General Farouk Yahaya.
Yahaya restated his commitment to improving all Army medical facilities across Nigeria durng the commissioning of the facility.
"The physiotherapy complex will provide treatment of injuries in the veins and nerves, among other injuries that have previously gone untreated," he said.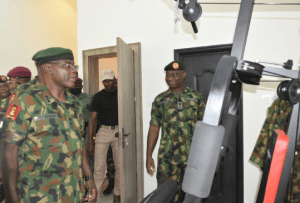 Yahaya added that "the facility would facilitate treatment to those in need within the Jaji Military cantonment without necessarily going elsewhere which will make it easier and timely."
He noted that the Army's provision of medical service equipment and structures at its various formations was to give its troops immediate medical support when the needs arise.
The Army Chief said; "Our enhancement and improvement of medical facilities across Army formations is very important to troops' morale.
"Administration is also important, and that is why we don't take it for granted, hence, we choose to build upon what our predecessor left."
Yahaya also promised that operations against criminal elements will be sustained and that the Nigerian Army would remain committed to improving on its successes.
The COAS promised that with the support of the Airforce, Navy, and other security agencies, they would continue to neutralise all the criminals with the orders of the Commander-in-Chief.
The COAS was briefed by Lt. Col. Bolanle Suleman, the Commanding Officer of the Jaji Military Cantonment Medical Center, on the cutting-edge medical facilities provided to servicemen and their families in the complex.
Brig. General Francies Omata, Director Special Forces Headquarters Infantry Corps Centre (ICC), thanked the COAS on behalf of the Commander Infantry Corps.
The army Chief visited the Jaji Military Cantonment to inspect the ongoing projects which includes an infantry mess, a zoological garden, a swimming pool for the Nigerian Army School of Infantry, a GTAG complex, and an airborne wing rigger tower.