The Nigerian government is set to collaborate with Africa Creative Market to identify and train talented young people in the country's creative industry in emerging technologies.
This will also position Nigeria strategically at the forefront of technologically driven business in Africa.
The Director General of the National Information Technology Development Agency (NITDA), Kashifu Inuwa, announced this at the Africa Creative Market (ACM) event titled "The Importance of Technology in the Creative Industry" in Lagos, South West Nigeria.
He stated that emerging technologies are changing the way people create, distribute, and consume content, but that content creators remain central to everything.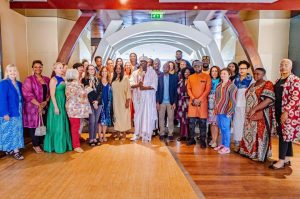 Inuwa affirmed the Nigerian Government's support to promote indigenous content in creators.
The days of Africa playing catch-up are over, according to the NITDA Boss, who urged African creatives to be among the generation that will create Metaverse.
Inuwa encouraged young people to position themselves to create value from emerging technologies by emphasising the value they bring.
He encouraged them to harness the internet in telling their indigenous stories to the rest of the world while capturing the needed value.
The 2022 ACM programme focused on training and empowering youths in creative technologies and covered different areas including animation, games and metaverse.